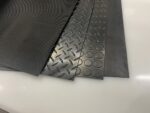 We stock and sell a variety of rubber matting and sheet material, from smooth sheeting to patterned non slip matting in different thicknesses.
All sold 'by roll' or 'by square meter'. Many flat parts can be made from the smooth sheet material including washers, spacers, feet and protective covers. We also sell equestrian stable matting.
So for all your rubber matting needs contact us and see how we can help.